Power station with solar panel - now with your portable emergency generator solar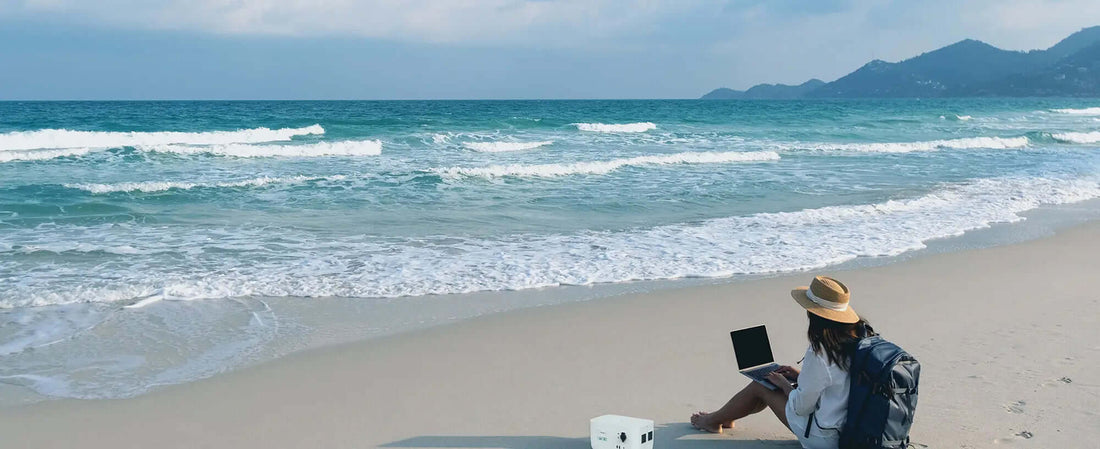 No matter for which application - Pylontech Amber Rock(Max.On) has the perfect solution

The Federal Disaster Protection Agency has been warning of the risks of a widespread blackout for some time. You can find tips and recommendations for prevention here official website of the BBK. Our new, freshly developed portable Pylontech Amber Rock (Max.On) power station for camping and power outages supplies your household and your camper with electricity when needed. Our Power station with solar panel can be adapted to the personal needs of the user with its expandable memory.
The practical thing about our Power Station with solar panel is that it can be charged either via the car's cigarette lighter or via solar panels. the Power station for blackouts can also be used as Solar emergency generator describe.
You are self-sufficient and not dependent on electricity from our power grid. They can be used to keep devices running for a defined period of time using solar energy. That's how she can Island system solar and the Power station with solar panel a mobile phone with standard equipment, e.g. B. easily charge 40 times or light up a lamp for 44 hours. Your tablet can be charged a whopping 15 times and a laptop a whopping 10 times. Further information and technical data can be found here . So you see a power station for blackouts makes a lot of sense. But yours will also be on camping trips Pylontech Amber Rock (Max.On) power station make your life a lot easier.
What is a power station and what are its benefits?

A portable Pylontech Amber Rock (Max.On) power station is a battery-operated generator, which is recharged by solar power. In the case of portable power stations, the memory, i.e. the built-in battery, can be expanded. So it brings even more performance. Power stations with solar panels are excellently charged with the help of solar energy. Alternatively, you can also be charged via the car's cigarette lighter. They provide the user with electricity and can effortlessly recharge devices with a total output of up to 300 watts, no matter where. Whether outside in nature or within your own four walls. This is how independence works in times of energy crisis.

Expandable storage – battery adaptable to every need

Our Power station with solar panel can as Island system solar be considered. They are equipped with a battery storage as standard. This is made in such a way that it performs well. However, those who need more power can use theirs Pylontech Amber Rock (Max.On) power station individually provided with additional memory. In this way, the capacity can be increased considerably.
Make yourself independent - power supply wherever you want
your Power Station can optionally as Solar emergency generator can be used and reliably supply your home with electricity even in times of crisis or make you more flexible when travelling. Even in untouched wilderness you can use your portable power station charge your smartphone or GPS device at any time. You don't want to do without music in nature or work on your laptop by a secluded mountain lake? With their Island system solar for the pocket, you are self-sufficient anytime, anywhere! That Emergency generator in mini format!


Slim design fits anywhere – whether at home or when travelling

Our innovative portable power stations are all designed to blend in unobtrusively with any environment. A noble feel paired with high-quality LED lights creates a simple elegance, which even fulfills a decorative purpose.
A great and novel as well as practical feature is the wireless charging function for mobile phones. Simply place your smartphone on your portable power station and in no time it is fully charged by solar power. It doesn't matter whether you are out in nature or there is a power failure at home, with our devices you will experience unlimited freedom and absolute flexibility. Your portable brings you all this Solar emergency generator. Electricity security, as dated Federal Civil Protection recommended.
AC-100V connections supply your devices with energy - almost all devices can be charged with the portable power station

Our Power station with solar panel can charge almost all devices. Only individual devices are excluded if they have more than 300 watts of power. Our Power station with solar panel is equipped with an ac-100v connection. Before you want to charge a device, you should check that it does not exceed the maximum total output of 300 watts.
Extended guarantee peace of mind with your power station

We offer a worry-free package with our extended three-year warranty. Here's how you can do your Pylontech Amber Rock (Max.On) power station use without hesitation and can be sure of being supplied with electricity for a long time in an emergency. Cover yourself and your family now in case of an emergency and purchase yours portable power station with solar panel.
Our portable Power Stationen have a service life three times longer than comparable models. This allows us to offer an extended warranty without a guilty conscience. Without additional costs! Enjoy all-round carefree protection for a full 3 years. In the event of a defect in your portable power station you will receive a repaired or new device under the warranty.
Mini Power - The future starts now!
During the 2022 energy crisis, the Mini Power founded. We have developed a lot of portable power supply systems that meet different needs.
We believe that our sun with its energy represents the future. Our solar articles are of high quality and versatile. Outdoor fans and camping friends are equally enthusiastic. As we swim with the tide of time, we have changed our portfolio Power station with solar panel, So Pylontech Amber Rock (Max.On) power stationwhich as Island system solar function and thus how emergency generator solar can be viewed expanded.
Power stations for the blackout are more important today than ever. Innovative solar solutions for everyone that is our motto. We stand for quality and affordable portable solar solutions for every need.
Huawei products that you may like
More about Huawei Fusionsolar products
With our newsletter you will receive many inexpensive articles every week.