Huawei Backup Box 3 Phase - Huawei emergency power in the event of a crisis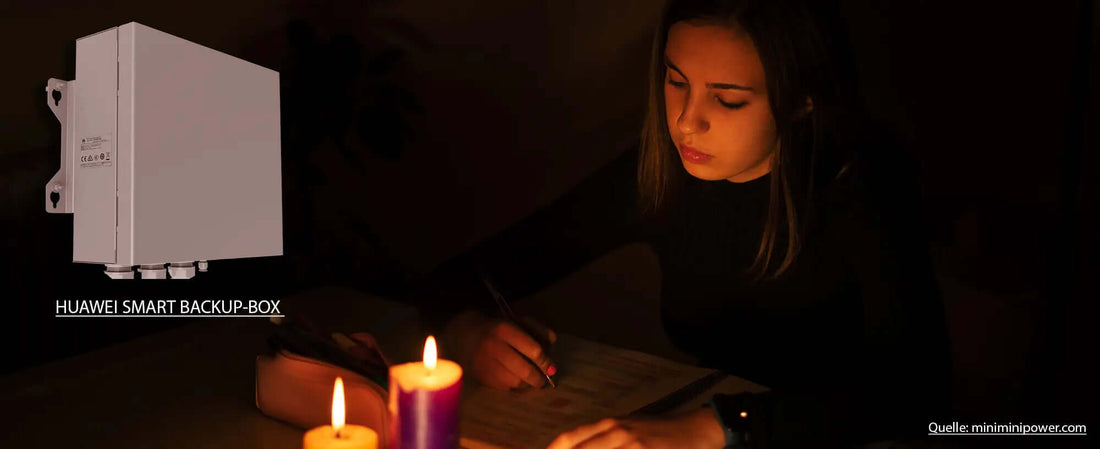 Innovative, new, smart - Huawei emergency power solution with backup box Huawei Solar B0/B1

The stubborn misconception that a PV system would provide security in the event of a nationwide power failure persists in people's minds. However, what many people do not know is that a PV system needs external power. This external power supply would in a complete power failure be omitted and would therefore not be available. Your PV system would be absolutely useless at this moment.
It is important to protect yourself by switching your PV system from a grid-connected to an off-grid status, because only then will your home PV system deliver to you power failure more Energy for your household.
For this case offers Huawei backup power Solution by developing their innovative Huawei Backup Boxes. With the Huawei backup box 3 phasen you get a solution that offers complete self-sufficiency from the domestic power grid.

Strong power in the event of a power failure with a backup box Huawei emergency power solution
Depending on the output power of the installed PV system, the Huawei backup box 3 phase / B0 1-phase make a grid-independent stand-alone system. A photovoltaic surface equipped in this way can generate up to 3 kWh. This means that all important equipment can continue to be operated in emergency situations and you are completely self-sufficient from our unstable power grid.
Backup Box Huawei Solar is the Huawei backup power Solution par excellence. With Huawei Luna2000 emergency power achieve security like you've never known it before!

Backup Box Huawei - Huawei emergency power 3-phase supplies your household at all times


As soon as the external power fails, the Huawei Backup Box automatically switches to island mode. And direct power supply from the outside is no longer necessary for operation. Huawei delivers completely independently at all times Huawei backup box 3 phase, with which you can continue to operate all important devices in your house.
Why you should rely on a backup box Huawei Solar - Crisis protection with Huawei emergency power
Global unrest in the distance, a war in the immediate vicinity, an energy crisis that has us firmly in its grip this winter - we live in turbulent times. The Federal Disaster Protection Agency is an internal agency for the protection of the population in the event of a crisis.
The federal government and BKK regularly publish guidelines on personal civil protection. Checklists and recommendations for action should help people to help themselves. What current recommendations are currently given, you can on the official website of the BKK read up.
The risk of a blackout from a widespread power failure can no longer be dismissed out of hand. As soon as the power supply fails, there is a risk of serious consequences: there is no running water, the heating is cold. You cannot cook or refrigerate your food.
But you can protect yourself. With the Huawei backup boxen your grid-dependent PV system becomes a self-sufficient stand-alone system that gives you Huawei emergency power 3 phase delivers in every crisis. Reliable, fully automatic, low-maintenance! Follow civil protection recommendations and gain security in your power supply so you can sleep soundly at night.
Huawei products that you may like
More about Huawei Fusionsolar products
With our newsletter you will receive many inexpensive articles every week.